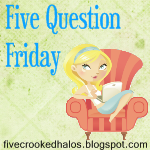 I'm linking up with others for Five Question Friday!


1. What Christmas song do you loathe?
Ugh.  So many I've blocked them out.  After working in retail for over 10 years and listening to Christmas music for weeks on end while folding sweaters, towels, whatever, I could live the rest of my life without hearing another Christmas song again.
2. Do you and your significant other cuddle at night or sleep on opposite sides of the bed?
After 2 1/2 years, our Sam's bargain basement mattress has two dents the size of the Grand Canyon, so even if we wanted to snuggle, we'd be seperated by one of us falling into one of the ravines.  Next time I'm buying a Sleep Number bed.


3. Have you ever had surgery?
Yes, lucky number 3.  Twice I've had my guts ripped out and the other time I had a baby ripped out.  None were pleasant experiences.  Obviously.


4. When do you typically have your holiday shopping done?
Characteristically, December 23rd.  I refuse to shop on Christmas Eve, so if I'm not done by then, I say screw it.  However, I've been trying to improve my planning skills, but there is always that one person that stumps me until the very end.  And I go out on the 23rd and buy them a gift card.


5. If money were not an issue (and you HAD to pick something), what would your ultimate luxury item be?
Probably a 50mm lens for my dSLR.  Or a boob lift.  But if I were to go really frivolous?  A '69 Stingray 'Vette.   
Okay, now answer these questions too and link you answers to My Little Life