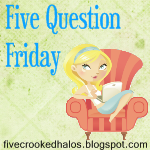 I'm linking up with others for Five Question Friday!
1. What's on the top of your holiday wish list and why?!
You may have noticed that there aren't many photos on my blog. A big part of that is that I'm lazy short on time. When I'm cooking, I'm always in a rush and don't take the time to photography each step. I know, I'm making excuses. In reality, it's probably because I don't have much confidence in the quality of my photos. Working with a kit lens doesn't really help my situation. So… just maybe… if I had a 50mm f/1.8… I would be more capable of taking Pioneer Woman quality photos… Just a thought.
2. What is your favorite Christmas gift from the past?
I think most of my favorite gifts have all come from my husband… I really appreciate it when he remembers something that I off-handedly mentioned back in August. Our first Christmas together, he bought me a Garbage CD after I had said on one of our first dates that my music collection was sorely lacking without it's presence. (Does anyone buy CDs anymore? I guess this was before iPods…) Or there was the year that he bought me an Easy Button. You know the one in the Staples commercials? It was used mostly as a paperweight on my desk, but now the kid loves to play with it. Still. It's awesome. "That was easy."
3. If you had life to do over, what would you be when you grow up?
I started college with an undeclared major since I had absolutely no idea what I wanted to do. But I guess I figured I should go to college. And in my second semester, I picked a major out of the school's handbook. Dietetics. It was fantastically interesting. Until I had to take organic chemistry. I withdrew that semester. (To be fair, that was when I started having digestive issues which turned out to be Crohn's.) The following year, I transferred to the local public university with a social work major (after a brief stint at the community college for interior design). While I still love the field, I don't really see myself pursuing the education needed to follow my original path of public policy and administration.
As far as dream jobs… I could see myself enjoying being a photographer, a chef, or maybe even a full-time blogger. But I think if I could start over, I would seriously pursue a career in nutrition and fitness. It's been a strong interest of mine since I was in high school and I believe that I could still prioritize my family while pursuing that field. As long as people would listen to me when I say, "Do as I say, don't do as I do" (as I'm eating a bowl of ice cream).
4. When do you put up your tree?
It's been a tradition of ours to put up the tree the Sunday after Turkey Day. It began when I was working in retail and the idea of having the Saturday after Thanksgiving was merely a dream. But on Sunday, even if you had to work, it was a shorter day. At least it used to be. Stores probably open at 6am and close at 11pm these days…
5. What is your favorite Holiday?
Thanksgiving has a slight edge over Halloween. Mostly because of the food. I love me some crispy turkey skin. (I'd be a great nutritionist, eh?) It's also less of a holiday "season," which is great for us lazy people. Minimal decorating involved. No gift buying. Just cooking. And I do that everyday.
Ok, now answer these questions and link up to My Little Life!