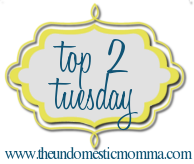 Top 2 Things I've learned about money
1.  Spend money on tangible things.  But not on things that just collect dust. 
Wow, that sounds like it could've been written by Suze Orman or something, doesn't it?  But it wasn't.  That was all me, baby.  Part I is derived from the fact that I've spent a lot of money on things that provide brief satisfaction and then are gone.  Like booze¹.  It's easy to spend $50 at the bar and all you're left with the next day is a raging hangover.  Not worth it. 
Part II?  Well, I just hate to dust.  'Nuff said.
2.  Take a lesson from your Grandmother.  She survived through the Depression.
Even if she was merely a twinkle in her father's eye in 1929, Grandma's are pros at living on less and reducing waste.  Two skills that are horribly lacking in our overly materialistic society these days.  I'm not saying that you should eat boiled potatoes every day.  But there are a lot of lessons we can learn about spending more responsibly.  And I'm happy to see that there is a bit of a renaissance on this subject coming about.  Now I don't feel so weird saving beef drippings.  Because the $1.50 I save by making my own gravy could be put towards a more worthwhile purchase.  Not to mention that jarred gravy is kinda gross.
¹I would just like to clarify…  I am not an alchy.  Anymore.