You all know I'm lazy, right?  When I saw the Rockin' the Bump meme over at Things I Can't Say, I was like, that's awesome!  I have a really cute preggo pic from New Years Eve.  I'm all over that!  But that involved sitting down in my cold basement, searching for the picture, and actually uploading it to the blog.  And apparently that was way too much effort for me at the time.  *Sigh*
However, Shell figured that we should all see these bundles of joy ex-utero, so now she's Rockin' the Baby!  And I'm not missing out on this one!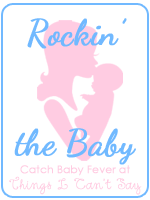 Because don't you all want to see pictures of my little under-cooked chicken*, I mean, baby?
Here she is in all her 4lb 2oz glory.  She came out screaming.  Probably because she was pissed that she got cheated out of 6 more weeks in utero. 
And here she is all cleaned up with her hair did.  This was the last time that she let me put a bow in her hair.
Finally ready to go home!  I have to admit that I still get a little choked up when I am reminded of how small she was.
Four months later, you'd never have known that she was a preemie.  I mean, look at those cheeks!
And here she is last week.  Lovin' some fruit pizza on the 4th.
It still blows my mind to think that I made that.  A miniature person.  That can walk and talk.  Wild.
*Credit where credit is due: I stole the term from a friend at Are We There Yet?  It just sounded so much better than drowned chihuahua.  You should all go check out her blog because she is awesome.